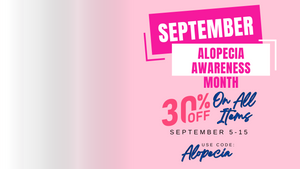 My Alopecia Journey: From Baldness to Becoming an Alopecia Wig Expert
I'm Heather, and I've spent a significant part of my life dealing with alopecia. My journey has taken me through the ups and downs of hair loss, starting when I was just three years old.
In line with the Alopecia Awareness Month this September, I want to share my story and how it led me to become an expert in the world of alopecia wigs. My mission goes beyond selling wigs; it's about providing support and confidence to those who, like me, have faced medical hair loss, especially children.
My alopecia journey began at a very young age. At three years old, I noticed a small patch of hair falling out. It was a cycle of hair falling out and growing back, only to lose more again. This unpredictable pattern continued until my hair was gone for good.
Throughout my life, I became skilled at concealing my hair loss. I became an expert in using wigs and hairpieces to regain my confidence. It might surprise you to learn that many close friends, some I've known for over 20 years, had no idea about my struggle with alopecia until I opened up about it in 2019.
Among the various wigs I tried, it was Jon Renau wigs that truly changed the game for me. The style was spot-on, the price reasonable, and the compliments I received about my "hair" were overwhelming. It was a moment of realization that set the stage for my entrepreneurial journey.
Empowered by my newfound love for Jon Renau wigs, I decided to establish Pretty Wigs To You. This boutique wig store focuses on Jon Renau wigs and my very own Heather Scott Hair. This serves as a haven for individuals going through medical hair loss. I'm passionate about offering expert advice on high-quality wigs and toppers to my customers.
My heart aches, especially for children experiencing hair loss due to medical conditions. My ultimate goal is to provide free wigs to every child who needs one. In a world where guidance on medical-grade wigs can be scarce, I'm committed to supporting and guiding those in need. Whether you're in the early stages of hair loss, undergoing medical treatments, battling autoimmune diseases, or have always been bald, I'm here to help you embrace a pretty wig with confidence.
In honor of Alopecia Awareness Month, I'm thrilled to offer an exclusive 30% discount on all items until September 15th. Just use the code "Alopecia" at checkout to take advantage of this fantastic opportunity. It's the perfect chance to explore the world of Jon Renau wigs and discover the confidence and beauty they can bring.
My journey, from a young child facing alopecia to becoming an alopecia wig expert and the founder of Pretty Wigs To You, has been filled with challenges and triumphs. My story reflects resilience and the ability to find strength in adversity. If you're looking for expert guidance on alopecia wigs or simply seeking support and encouragement, I'm here for you. Don't miss out on the exclusive discount during Alopecia Awareness Month and join me on your path to self-confidence and beauty with Pretty Wigs To You.
---